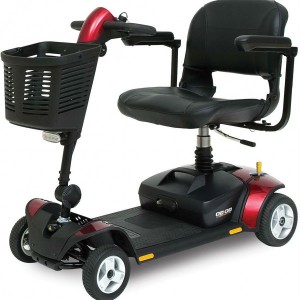 It sounds like a scenario straight out of a sketch show, but recently down in Cornwall a man who was injured after a fall on a path was rescued by a mobility scooter!
Paul Lane was walking a nature path alone in Poldice Valley, Cornwall when he slipped and broke his leg, being on his own, he feared the worst. Luckily for him as he cried out for help and was heard by members of Disabled Ramblers – a national organisation that helps disabled people get out and about in the countryside.
They followed the cries for help and came across Paul, with group leader John Cuthbertson saying:
"He was hidden by trees and so took some finding. Paul said that there was the sound of a crack from his leg when he fell. He had tried to crawl to the track but couldn't make it. We were so glad to be able to help Paul. Without our Trampers – off-road mobility scooters – he would have had a long wait on the hillside. It was wonderful to see how all our members worked seamlessly to make this happen."
They called the emergency services who arrived on the scene but found the terrain to be a problem for the ambulance, which is when the quick thinking of the ramblers kicked in, they radioed for their support trailer, before securing Paul Lane to it and then slowly driving him down the tracks to the waiting ambulance.
Jamie Burns, 22, who has cerebral palsy, drove the scooter down the hill and had this to say:
"It was a really rough track down the hill, so it was a bumpy ride for him with lots of rocks to negotiate. The ambulance crew wedged his leg with bags, and some of the walkers with us steadied the trailer with ropes. Mr Lane was brought safely down the hill to the ambulance and taken to hospital for treatment."
Mr Lane, from Birmingham, knew how lucky he was to be found by the group telling them: "Without you guys I would still be up there."
With Essential Mobility you can hire a mobility scooter to make life easier for you, no matter if you are planning on rescuing people or not!
This article may also interest you:
Don't miss the Age UK older drivers conference this month.